HM8131
HM8131 8MP UltraSense™
Low Power 30fps
1/3.2″ 8.1MP
RGB Color CIS
1.4μ BSI Pixel
4-lane MIPI CSI2
The HM8131 is a high performance, low power 8-Megapixel BSI CMOS Image Sensor designed for power-conscious mobile consumer applications, such as Smartphone and Tablet devices. The sensor supports an active array of 3264 x 2448 that operates up to 30 Frames Per Second (FPS) while consuming 200mW. A smaller array size can be programmed using window readout or subsampling with binning to reduce power or support higher frame rate operation.
Using Himax Imaging's 1.4 micron UltraSenseTM BSI pixel technology, the HM8131 delivers more than 34% higher sensitivity over comparable FSI pixels. The UltraSenseTM BSI high angular response improves the image quality in the periphery of the sensor focal plane; when combined with the use of popular 1/3″ optical format allows the sensor to be compatible with a wide variety of auto-focus lens and low-profile, fixed-focus optics offered by multiple suppliers in the market today.
The HM8131 bare die package occupies less than 34mm2 and requires minimal passive components allowing the sensor to be easily integrated in a standard 8.5mm x 8.5mm Auto Focus camera module. The Bayer 10bit data is transferred over 4 lane MIPI CSI2 interface, and can support 2 lane MIPI CSI2 mode for 15FPS operation. The sensor features on-chip global gain, black level correction, lens shade compensation, defect correction, One Time Programmable memory, and a Temperature Sensor that can be programmed and accessed using a standard 2-wire.
Image Sensor Features
Low power 8MP (3264 x 2448) sensor consuming 200mW at 30FPS full frame
Back Side Illuminated (BSI) pixel delivers outstanding sensitivity, uniformity and noise performance
Programmable sensor window, flip, mirror, horizontal, and vertical sub-sampling readout modes
Global analog gain up to 15.5x, and global digital gain up to 2x
Embedded data with frame count, frame size, exposure and gain information
On-chip black level calibration, four channel lens shade and pixel defect correction
High speed 4-lane MIPI CSI2 interface with support for LP and ULPS modes
1Kbit OTP to store module and calibration information
Integrated LDO, POR, PLL and temperature sensor
Bare Die (RW) for 8.5mm2 COB module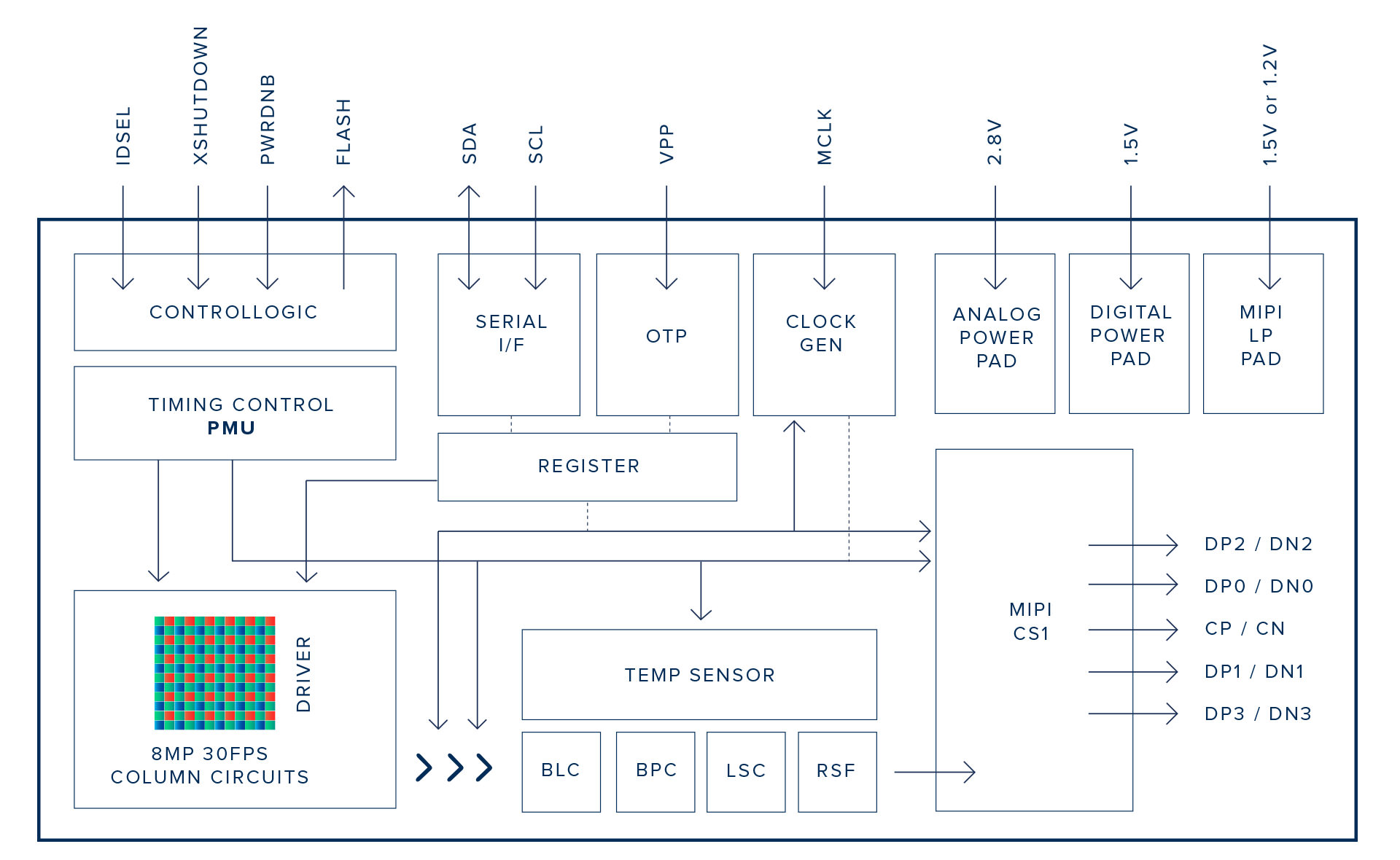 Image Sensor SOC Specifications
| | |
| --- | --- |
| Part Number | HM8131-AGA (RW) |
| Color | RGGB |
| Array Diagonal | 5712 µm |
| Resolution | 3264 x 2448 (additional 8 border pixels) |
| Output Format | RAW |
| Optical Format | 1/3.2″ |
| Pixel Size | 1.4µm |
| Frame Rate | 30FPS |
| Sensitivity (FD @ 530nm) | 720mV / Lux-sec |
| SNRmax | 36 dB |
| CRAmax | 31º non-linear |
| AVDD / DVDD / IOVDD (typ.) | 2.8V / 1.5V / 1.2V |
| Power Consumption | 200mW |
| Temperature | Operating: -20° to 70°C, Storage: -40° to 85°C |
| Package | RW |