Continuous Lens
Continuous Lens
The augmented reality (AR) device is consisting mainly of a liquid crystal display (LCD) panel, projection lens modules, and light guides. However, the plane of focus of this projected virtual image may not coincide with that of the physical object (so called image registration) owing to the fixed lens power of conventional lenses. This discrepancy can generate visual fatigue in the user, who must continuously adjust the crystalline lens in the eye. But the electrically adaptive optical elements can register a projected virtual image with objects in the real world.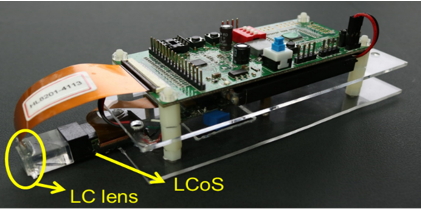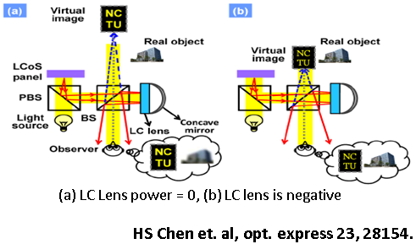 LC lens are compact, light, electrically tunable, economical, and more promising for use in AR systems. LC lens powers are electrically and continuously tunable via the spatial orientations of LC molecules in external electrical fields. It can make the projected image either real or virtual. Liqxtal's product HL8201 can be driven with very simple electrode design and easy to applied in AR system.
Features
Tunable optical power with different voltages and frequency
Customized optical design
Scalable manufacturing
Application
Augmented reality and virtual reality – Image plane registration and vision correction
Auto focus system
Model
Prod.
STD Spec.
HL8201
Continuous Lens

Clear aperture: 6 mm1

Tunable lens power: -1 ~ +1 Diopter

Response time: < 2 s1

Wavelength: 450 ~ 650 nm

Driving voltage: < 10 Vrms
1:The optical parameters can be customized. For more information, please contact us.