Developing Tools
WE-I Plus EVB & SDK are ready NOW!
WE-I Plus Evaluation Board
WE-I Plus evaluation board with 40mmx40mm dimension is designed for sensor fusion application, bringing together inputs from multiple sensors in order to produce a model that provides more accurate results than the use of the individual inputs. It is industrial leading ultralow power and best performance platform to foster blooming AIoT applications.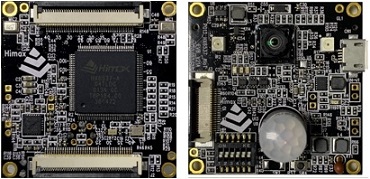 SDK & Documents
Contact Himax for EVK, SDK and User Guide
| Documents | Version | Last Updated |
| --- | --- | --- |
| WE-I Plus Application Note | V03 | 20201222 |
| WE-I Plus Data Sheet | V05 | 20210507 |
| WE-I Plus Program Guide | V03 | 20201222 |
| WE-I Plus Hardware User Guide | V01 | 20200203 |
Himax WE-I Plus Endpoint AI Development Board
This new compact WE-I Plus development board is optimized for TinyML model deployment under Google TensorFlow Lite for Microcontrollers framework, and it integrates AoS™ VGA camera, L/R microphones, 3-axis accelerometer, and USB to SPI/I2C/UART bridge into one board with 40mmx27mm dimension. Developers now get easy access to Himax's leading technologies with WE-I Plus EVB available at the SparkFun online retail store for Endpoint AI system development, ultimately enabling the innovation of life-changing use cases.
Himax WiFi Eye Contact Board
WE-I Plus Evaluation Board can be used to capture and process image or voice recognition/classification at the edge and only send metadata, rather than the raw image/voice data, through wireless connectivity to the cloud or other edge computing servers to save bandwidth, reduce latency and protect privacy. For wireless connectivity, WE-I Plus WiFi Eye Contact Board has been built with ESP12-F WiFi module to help developers easily realize WiFi connectivity.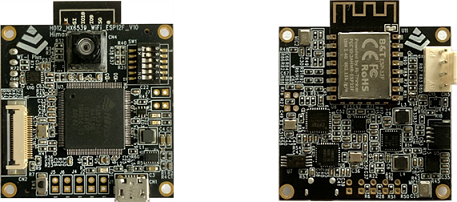 Himax AIoT Platform Board with NB-IoT (Himax-AIoT-NB-G2)
Himax-AIoT-NB-G2 development kit is equipped with the high-efficiency and ultralow power processor "WE-I Plus" and NB-IoT connectivity for battery-powered endpoint AI devices. With built-in support for TensorFlow Lite for Microcontrollers (TFLu) framework, WE-I Plus is facilitated for easy porting of tinyML models into WE-I Plus together with Azure RTOS to ease the barrier for developers to pass Azure PnP certification in a wide range of applications including smart retail, building, manufacturing, and agriculture.
SDK.AI & TensorFlow Lite for Microcontrollers (TFLu)
Reference – TensorFlow Lite for Microcontrollers
Reference – Edge Impulse
Reference – Himax GitHub
Reference – Synopsys ARC