Liqxtal's LC Adaptive Lens Products
Liqxtal's LC Adaptive Lens Products
Liqxtal's LC Adaptive Lens
Liqxtal Technology Inc. is the leading company for liquid crystal (LC) adaptive lens development, providing turn-key solutions to our customer. Our core technologies are LC device and optics design with scalable manufacturing process. Our target markets are head-mounted displays and ophthalmic lenses with growing needs for dynamic vision correction. Liqxtal's technology explores limits of tunable optical modulation and enhances vision performance of people worldwide.
About Liqxtal Tech.
Founded in 2011
Team: Taiwan's LCD and IC experts (Establishing), originally from LC Lab in National Chiao Tung University
How LC lens works
Comparing to traditional solid lenses with fixed refractive index, the refractive index of LC lens is electrically tunable. Therefore, the focal length of LC lens is tunable by properly controlled the optical phase as aspheric or Fresnel lens phase profile.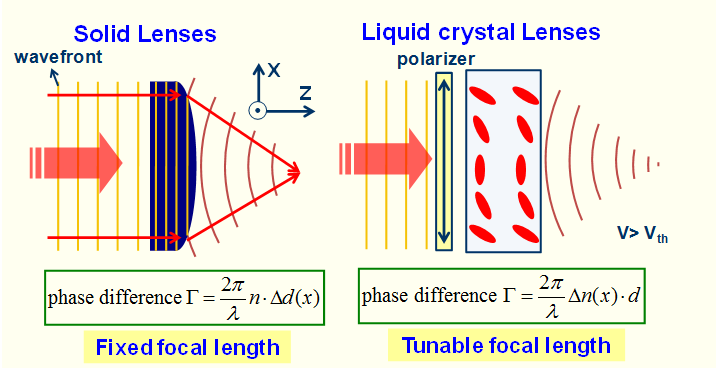 Products
Key Specifications
| Clear aperture | Tunable lens power | Step of tunable lens power | Driving voltages |
| --- | --- | --- | --- |
| 8mm | ±1D | 0.1D | <10Vrms |
| 20mm | ±1D | 0.2D | <10Vrms |
The optical parameters such as clear aperture, lens power, response time can be customized. Liqxtal's LC lens can support up to 1,000 driving channels (with Himax's driver IC solutions).
Features
Tunable optical power
Customized optical design
Scalable manufacturing
Dynamic optical center
Applications
Augmented reality and Virtual reality – Image plane registration, Vergence/Accommodation conflict compensation, and vision correction
Ophthalmic lenses – Enhanced vision performance, Presbyopia and Myopia correction
Special applications – Phase modulation, Laser intensity attenuation, speckle reduction, and switchable optical zoom (welding helmet)
For more information, please contact us.