HM01B0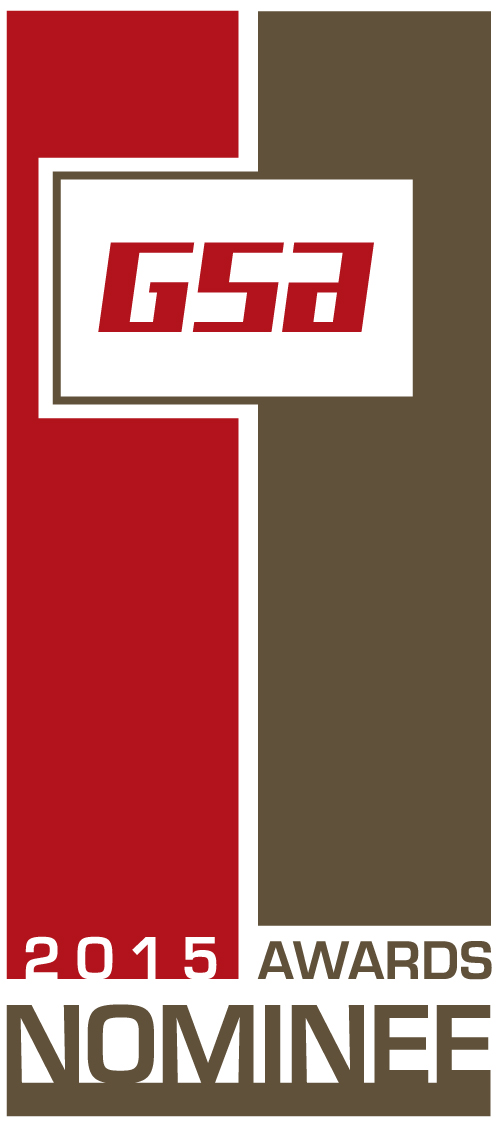 HM01B0 Ultralow Power CIS
320 x 320
1/11″
Parallel & Serial Interface
The HM01B0 is an ultralow power CMOS Image Sensor that enables the integration of an "Always On" camera for computer vision applications such as gestures, intelligent ambient light and proximity sensing, tracking and object identification. The unique architecture of the sensor allows the sensor to consume very low power of <2mW at QVGA 30FPS.
The HM01B0 contains 320 x 320 pixel resolution and supports a 320 x 240 window mode which can be readout at a maximum frame rate of 60FPS, and a 2×2 monochrome binning mode with a maximum frame rate of 120FPS. The video data is transferred over a configurable 1 bit, 4bit or 8bit interface with support for frame and line synchronization. The sensor integrates black level calibration circuit, automatic exposure and gain control loop, self-oscillator and motion detection circuit with interrupt output to reduce host computation and commands to the sensor to optimize the system power consumption.
The sensor is available in a Chip Scale Package (CSP) or bare die and measures less than 5mm2. The sensor supports single, dual or triple power supply configuration and requires only 3 passive components enabling a highly compact camera module design for devices such as IoT, wearable, smart building, smartphone, tablets and slim notebooks.
Features
Ultralow Power Image Sensor (ULPIS) designed for Always On vision devices and applications
High sensitivity 3.6µ BrightSenseTM pixel technology
320 x 320 active pixel resolution with support for QVGA window, vertical flip and horizontal mirror readout
Programmable black level calibration target, frame size, frame rate, exposure, analog gain (up to 8x) and digital gain (up to 4x)
Automatic exposure and gain control loop with support for 50 / 60Hz flicker avoidance
Flexible 1bit, 4bit and 8bit video data interface with video frame and line sync
Motion Detection circuit with programmable ROI and detection threshold with digital output to serve as an interrupt
On-chip self oscillator
I2C 2-wire serial interface for register access
High CRA for low profile module design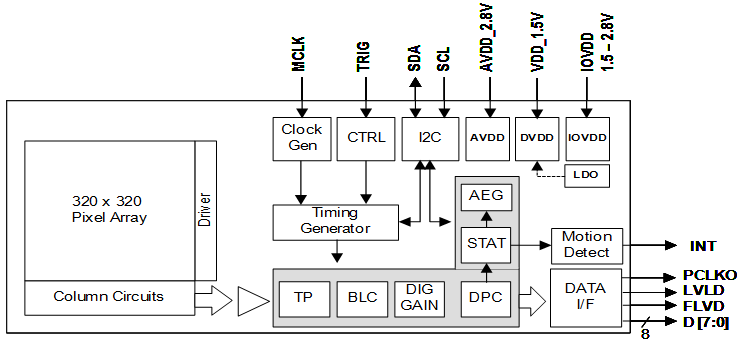 Sensor Parameters
Active Pixel Array
320 x 320
Pixel Size
3.6 µm x 3.6 µm
Full Image Area
1152 µm x 1152 µm
Diagonal (Optical Format)
1.63 mm (1/11″)
Color Filter Array
Monochrome and Bayer
Scan Mode
Progressive
Shutter Type
Electronic Rolling Shutter
Frame RateMAX

51 fps @ 320 x 320

60 fps @ 320 x 240 (QVGA)

S/N RatioMAX
TBD
Sensitivity

TBD mV / Lux-sec @ 530nm

TBD mV / (uW-cm-2 sec) @ 820nm

CRA (maximum)
30º
Sensor Specifications
Supply Voltage Analog

Supply Voltage Digital

Supply Voltage I/O

2.8 V

1.5V (Internal LDO: 1.5V – 2.8V)

1.5 – 2.8V

Input Reference Clock
3 – 50 MHz
Serial Interface (I2C)
2-wire, 400 KHz max.
Video Data Interface
1b, 4b, 8b with frame / line SYNC
Output Clock RateMAX

50 MHz for 1bit

12.5 MHz for 4bit

6.25 MHz for 8bit

Est. Power Consumption (include IO with 5pF load)

QVGA 60FPS (Typical) <4 mW

QVGA 30FPS (Typical) <2 mW

QQVGA 30FPS (Typical) 670 µW

Standby TBD μW