HM11B1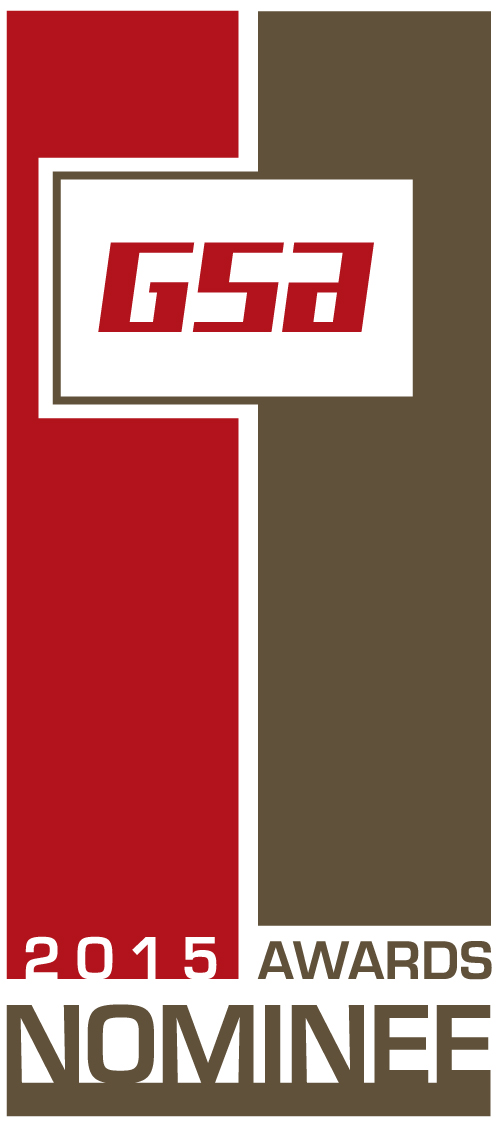 HM11B1 HD Sensor for Always On Vision Ultra Slim Camera Applications
Stacked BSI
1280 x 800 60FPS
1/11″
40mW 720p60
<1mW AONV & Monitor Mode
The HM11B1 is an ultra-low power 1/11" HDCMOS image sensor designed with Himax Imaging Ultrasense-AoSTM stacked technology that delivers exceptional image quality performance and integration. The sensor package measures only 2.3mm x 1.5mm for module y-dimension as small as 2.2mm to support thin bezel HD notebook and small form factor IoT devices.
The HM11B1 consumes approximately 40mW at 60 frames per second operation and features sub-milliwatt readout modes and embedded Wake-on-Motion monitoring over the entire field of view. The HM11B1 ultra low power readout and sensing modes can be triggered by the host or operated autonomously to enable Always-On contextual awareness for next generation computer vision features, such as wake on human-detected approach.
To further reduce the camera power consumption and system latency, the HM11B1 offers fast boot up time, <50ms time to well-exposed frame output (typical case and includes 33ms exposure time assumption), context switching and instant frame update.
The HM11B1 is offered in Bayer RGB, 4×4 RGB-IR and White-IR filter array. The RGB-IR sensor can be used to support active illumination in dark conditions or support system authentication reliant on IR information. The sensor features separate analog gain amplifier for visible and IR channel to compensate for response differences in the scene illumination.
Additionally, the sensor offers flexible readout, including multiple sensor binning modes to reduce data bandwidth while improving signal to noise ratio, and option for visible only or IR only readout (RGB-IR sensor only). The HM11B1 supports MIPI-CSI2 interface and Serial Digital Interface (SDI) that can interface to a secondary AI CV processor. The data interfaces can run independently or simultaneously (dual mode). In dual mode, the sensor allows lower frame rate at SDI output while operating at 30 or 60 frames per second over the MIPI interface.
The HM11B1 supports 3 power supply configurations for the lowest power consumption, and support 2 supply or 1 supply configuration to simplify system power design. The sensor requires minimal passive components to enable a highly compact camera module design for next generation computing and smart camera devices.
Features
Ultra low power, 1/11" HD sensor with 0.9mW Wake on Motion mode and <50mW HD at 60FPS
Chip package of 2.3mm x 1.5mm to support 2.2mm module length for thin bezel devices
Embedded motion detection with digital interrupt output to wake external host processor
<50ms from trigger to well exposed frame using on-chip pre-metering function
Embedded Auto Exposure and Gain control loop
On-chip light level estimator
Pre-exposure provides well exposed first frame and after extended sleep (blanking) period
Automatic wake and sleep operation
Programmable event interrupt to wake host processor and enable efficient "Always On Vision" application
Quick mode switch and command update every frame
Highly flexible binning and subsampling mode with readout options for quad, color channel, visible channel and IR channel
Embedded line provides metadata frame, AE statistics, Motion detection statistics and other interrupt event information (Available in MIPI mode only)
On-chip high precision oscillator
I2C 2-wrie serial interface supporting burst operation for fast register access
Integrated Low Dropout (LDO) regulator to support dual 2.8 / 1.8V or single 2.8V operation
High CRA for low profile module design
1-lane MIPI CSI2 and CMOS level serial video interface with support for single interface or concurrent dual interface operation
Supports programmable Spread Spectrum Clock Generation (SSCG) for MIPI DPHY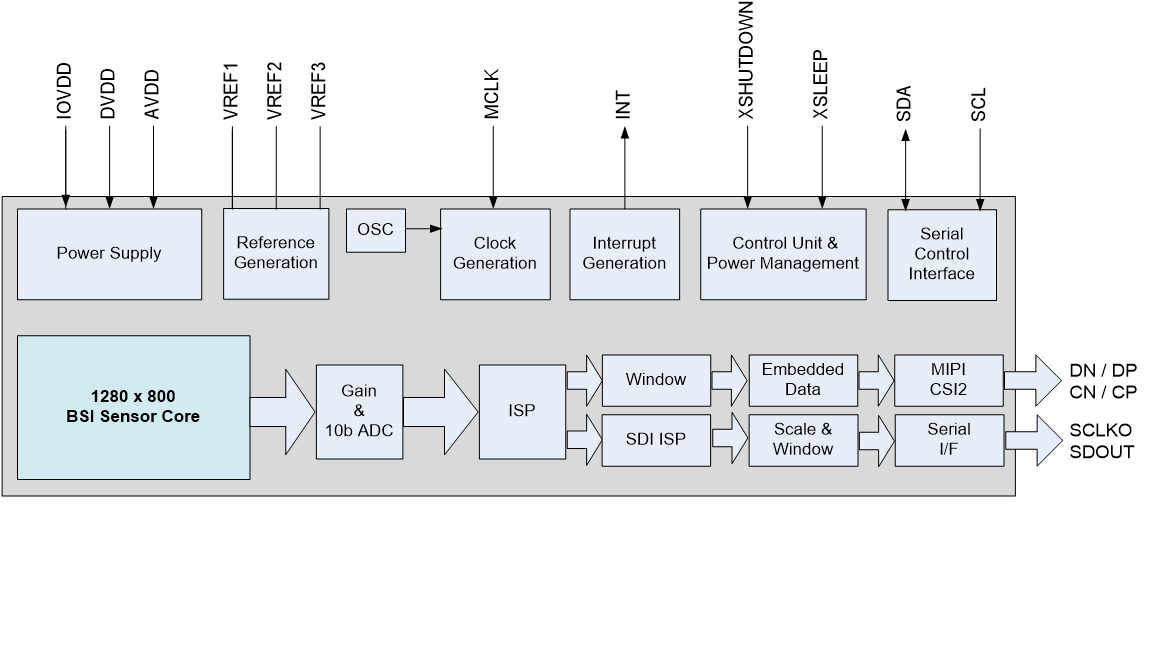 Sensor Parameters
Active Pixel Array
1280 x 800
Pixel Size / Technology
1.12 µm x 1.12 µm / BSI
Diagonal (Optical Format)
1.715 mm (1/11″)
Color Filter Array
Bayer, RGBIR (4×4), W-IR
Frame Ratemax
60FPS 800p
Readout Modes
Full (800p), Bin or Sub 2 / 4 / 8
S/N Ratiomax
34dB

Sensitivity @ 530nm Bayer

Sensitivity @ 530nm RGBIR

Sensitivity @ 530nm W-IR

656 mV / Lux-sec

598 mV / Lux-sec

TBD mV / [µW-sec/cm^2]

Sensitivity @ 850nm Bayer

Sensitivity @ 850nm RGBIR

Sensitivity @ 850nm W-IR

1938 mV / [µW-sec/cm^2]

1685 mV / [µW-sec/cm^2]

TBD mV / [µW-sec/cm^2]

Sensitivity @ 940nm Bayer

Sensitivity @ 940nm RGBIR

Sensitivity @ 940nm W-IR

932 mV / [µW-sec/cm^2]

1212 mV / [µW-sec/cm^2]

TBD mV / [µW-sec/cm^2]

CRA (maximum)
33.3º
Sensor Specifications
Supply Voltage Analog

Supply Voltage Digital

Supply Voltage I/O

2.8 V

1.1V (1.8V LDO option)

1.8V / 2.8V

Reference Clock (EXTCLK)

9 – 27 MHz (SCL=400 kHz)

16 – 27 MHz (SCL=1 MHz)

Internal Oscillator
48 MHz
Serial Interface
I²C (1MHz max., single / burst)
Pixel Data Interface
MIPI CSI2, SDI
Pixel Data Format

8-bit, 10-bit (MIPI-CSI2)

8-bit (SDI)

Power Consumption Monitor

Power Consumption RQQHD 3FPSGBIR

Power Consumption QHD 3FPS

Power Consumption HD 30FPS

Power Consumption HD 60FPS

912 µW

756 µW

1.26 mW

26.66 mW

40.03 mW

Package
RW