Always On Smart Sensing
Empower AI in Extreme Edge IoT Devices
Industrial Ultra Long Battery Life AIoT Devices
WE-I Plus is an ultra-low power AI accelerator-embedded ASIC platform solution for application developers to develop and deploy convolutional neural networks (CNN)-based machine learning (ML) models on AIoT applications including smart home appliances and surveillance systems.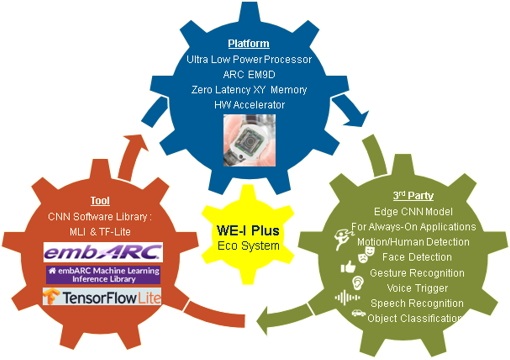 WE-I Plus is ready NOW!
User-friendly Evaluation Kit (EVK) for application developers to develop and exercise their home appliance, Surveillance and AIoT edge device concept quickly
Complete software library with tool chains(SDK) are supported for the efficient implementation of machine learning technology for processing captured sensing big data from image, voice and ambient sensors.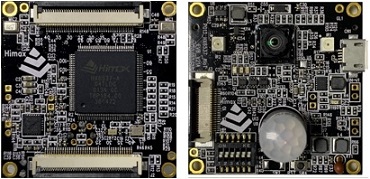 ---
WE-I Plus – Best AIoT Processor on Battery Devices
Computation Optimization
Flexible and optimized computation architecture could make AIoT devices perfectly fit blooming IoT applications with intelligent. WE-I Plus is equipped with following excellent features enabling IoT devices being smart.
Adopts a programmable processor with the enhanced DSP features
Power-efficient image and JPEG hardware accelerator for real-time motion detection, object detection, and image processing
Optimized large SRAM size to support vision and voice ultra-low power detection simultaneously
APPLICATIONS
Smart home appliance
Intelligent home security & safety
Wise city & building
Brilliant consumer devices


---
Power Minimization
WE-I Plus providing long battery life of IoT devices required efficient power minimization architecture includes.
Embedded ultra-low leakage LDO and multi-state smart PMU (Power Management Unit) for achieving ultra-low power and long battery life demand
Optimized large SRAM architecture for power minimization
POWER CONSUMING AT REQUIRED BLOCKS ONLY
Fast security boot up
Flexible PMU to minimize power consumption at suitable operation modes for required blocks only
Ultra-low leakage LDO embedded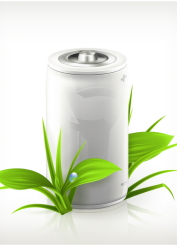 ---
Security Protection
IoT devices boot up, FW updated and private data transportation are key tasks which need to be well protected in cyber world. WE-I Plus is already equipped with complete hardware and software security solutions to protect IoT devices in high risky internet environment completely.
COMPLETE SECURITY PROTECTION FOR IOT DEVICES
Fast security boot up
Safe security OTA
Flexible security transfer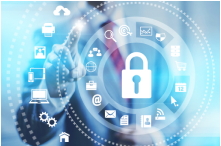 Features
Part No.
Processor
Memory
ML/CNN
HW Accelerator
Peripheral
Security
HX6537-A
ARC-EM9D@400MHz

SRAM:2MB

Flash:1MB/2MB (SiP)

TensorFlow Lite for Microcontrollers
HOG/CDM/JPEG

CIS: 1/4/8 bits

I2C/SPI/ UART

I2S/PDM

GPIO

ADC:12bits,1M

Security Boot

Security OTA

Security Transfer